Talent Crunch Vs Talent Hunt in India
There is a serious challenge running for ages – the industry's resource need and employable resources available and the IT industry has been dealing with it through various innovative means.
India being the world's IT outsourcing hub, faces a huge skill gap in the type of resources it needs, and what it gets out of new hires – a huge challenge for the HR managers.
One of the top MNCs in India ended up recruiting double the number of fresh candidates they needed, for which they had run a hiring campaign. The main reason for this is the talent gap and for such a huge recruitment, they will be unable to recruit further for the next 2-3 years, as per their statement in a media conference.
Because of the pandemic, suddenly the situation has worsened.
Globally, there is renewed emphasis on Automation, Digitization across industries and upsurge of new age automation in the era of Industry 4.0 and Education 4.0.
The CHROs now suddenly have new challenge to solve. They need plenty of new resources as there's host of projects lined-up in new age technologies and niche digital skills.
As a result, to cope with this pressure, a hiring frenzy is going on with large IT companies and some funded Tech Startups product companies in India. Hiring talented individuals, mainly Software engineers and product managers has become a mandate.
Amazing pay structures, joining bonus, referral goodies and a lot of perks offered by such companies, is becoming a resource acquisition strategy rather than a hiring one. With a lot of disposable funds and a strong brand value they are offering insane salaries to resources.
Campus recruitment this year has been overwhelming – more than 1.2 lakhs hired with 40% higher average salary offers than those of the last year fresh graduates.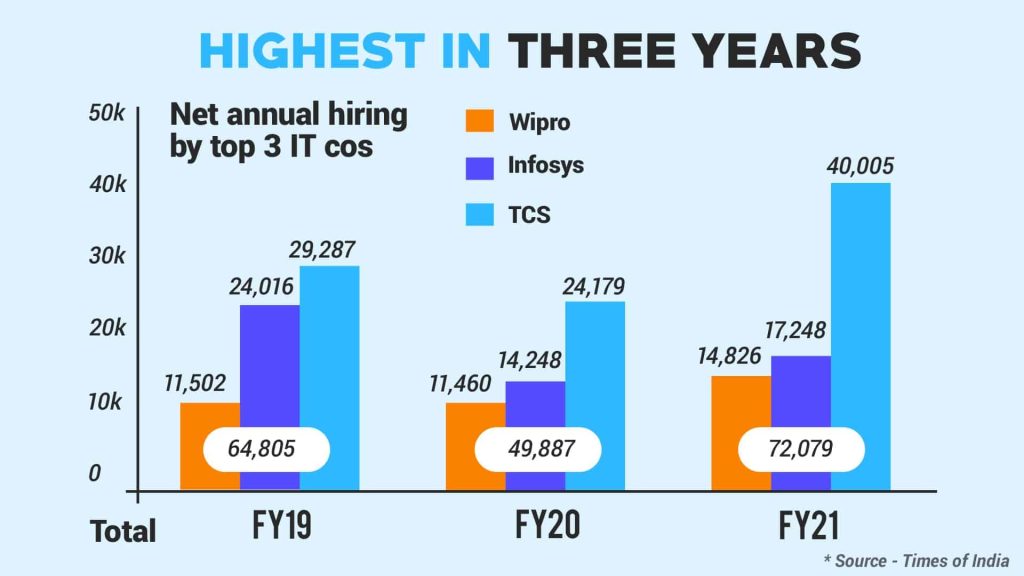 For lateral hiring, perks and up to 70% hike in salary with amazing roles is being offered but there is still about 50% dropouts!!!
Attrition has also gone up to 25% from last year's 10%.
This situation has actually made some of the resources even more adventurous to take this one step further and negotiate salaries with other organizations beyond industry standard. Amidst the pandemic, resources are using an offer letter as a tool for negotiating salary with other hiring companies and finally joining the highest paying company escalating the salary up to even 60%.
On the other hand, this scenario is becoming more and more challenging for the recruiting agencies as well as mid-sized IT companies who can't afford to pay that kind of hefty salaries breaking all norms to retain talents or hire fresh candidates.
Experts are of the opinion that this bubble will also burst as this seems to be a temporary phase based on a pseudo demand spike which will settle in sometime.

Till then, it's rejoicing for young resources and worrying for mid-sized IT companies and staffing agencies.